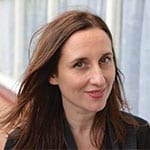 Choosing the green and gold bathroom to be this issue's cover star was a no-brainer. The colours and textures are a great combination, and got us thinking about new ways to present a room, create a mood and make an everyday space feel special.
This edition is all about ideas and how they're delivered. That applies as much to the front cover and the pages further on, dedicated to some of the best bathroom looks around, as it does to the Art Guide, this issue's free supplement. People who create, buy, sell, love, live and breathe art discuss their passion in its pages. You may not opt for green and gold in the end, either as a decor scheme or as a piece of art, but we hope the guide will inspire results you might have thought were out of reach.
So, inspiration is the backbone of this special seasonal issue. Fresh takes on classic designs are hitting big, with printed velvets, chinoiserie and embellished trimmings all making a comeback. And with Christmas around the corner, we've ideas for those who enjoy colourful design and the pleasure it brings. A Fatman folding cake stand from Alessi, or a bright pink Louis Vuitton case? It's going to be a cool yule!
– Gillian Welsh
Editor's picks