Answers from the best in the business
What colours are fashionable at the moment?
"Here at Birkwood we whole-heartedly encourage our customers to enrich their plywood kitchens with colours to suit their personalities. We are finding that once our clients have found their forever homes, they tend to select bold and vibrant colour schemes as they are unconcerned about how this may affect saleability in the future. Rich polenta yellow has been particularly popular, sometimes toned down with a small touch of a darker colour as contrast. All tones of blue, from bright turquoise to rich navy, are always popular and we are seeing adventurous dashes of pinks added in small areas to break the blue hues. For our hand-painted kitchens, there is a definite move towards very dark colours – graphite grey and midnight blue with copper detailing is beginning to emerge."
Mark Williamson, Birkwood
---
How do you deal with room height?
"Whether you're working with a room height that's a restriction or an advantage, there is always an effective solution. Our furniture ranges at Palazzo offer a wide series of carcase heights allowing us the design freedom to modify dimensions to suit exact requirements and still maximise storage potential. If you have the luxury of space, we can elongate the units and have display niches above. Additionally, clever use of unit and ceiling lighting features can ensure that regardless of room height, the kitchen will feel bright and spacious."
Jennifer Myszker, Palazzo
---
How do you make sure the colour palette you choose will last forever?
"Colour can be such a personal choice, influenced by emotion and by current trends. What you love today could be a fashion choice that is out of vogue tomorrow. Palettes featuring off whites, greys, browns and dark colours, combined with accents in wood, are always long lasting. Natural materials – granites, timbers and concretes – sit more comfortably with these tones. Whatever colour choices you are considering, be they bold or subdued, you should seek professional advice from a kitchen specialist who should be able to provide photorealistic imagery for you. Be honest with yourself and ask the question "have I always liked these tones or is this just fashion? Remember splashes of colour can come from accessories, flowers, wall coverings and soft furnishings."
Gideon Robinson, Gideon Robinson
Top tips for making the most of a small space?
"These understated cabinets (above) create a mirror-like effect, streamlining the design and drawing light into the room, making it appear much larger than it actually is. First, with any small space, you need to focus on function. What storage do you need? How many work tops? What type of stove and refrigerator is right for you? You can also maximise space by using pocket drawers and investing in mini appliances. If workspace is a must, think about a small-scale island or a mobile butcher's block that can be tidied away once you're finished with it. Function or style? The good news is, you can have both."  Richard Wilson, Kessler
---
What are the benefits of recycling?
"Renew kitchen Door Company assess the quality of existing kitchen units and, if in good order, would recommend renewing the doors to achieve a beautiful new kitchen. Additional units can be added when required. The main benefits of re-using good quality units and fitting new made-to-measure doors, drawer fronts and worktops is that you save a considerable amount of money and still achieve a beautiful new kitchen. Fewer materials are required to be manufactured and transported as well as labour on site. This has an impact on energy consumption and the carbon footprint. Using fewer materials helps greenhouse gas emissions as it reduces the consumption of new raw materials and air and water pollution is reduced as fewer materials are going to landfill."
Charles Herbert, Renew Kitchen Door Company
---
The budget is £40,000 – how do you break it down?
"Here at Peden & Pringle we believe it is important to appreciate the clients budget carefully. We meet at our clients home or sit down in the design studio to listen to the brief – including the budget – and make sure we understand it correctly, allowing us to specify their bespoke kitchen accordingly. We are a design-led business, not sales staff working to a sales target, with over 35 years of shared experience within the kitchen industry. Every project is unique, designed and made specifically for each client, therefore we do not have a range or a set style. We are as happy designing traditional kitchens as we are a sleek modern kitchen. With this comes a huge amount of variation between our jobs; sometimes we are supplying the whole turn-key solution including trades such as plumbers and electricians, and often we are asked to work closely with a main contractor where only a 'dry fit' is required. A Peden & Pringle kitchen typically starts from £30,000. We would break this down: £14,000 to the bespoke furniture; £5,000 to the worktops, £8,000 to the appliances & £3,000 for the installation and hand-painted finish (all approximate)."
Camilla Pringle, Peden & Pringle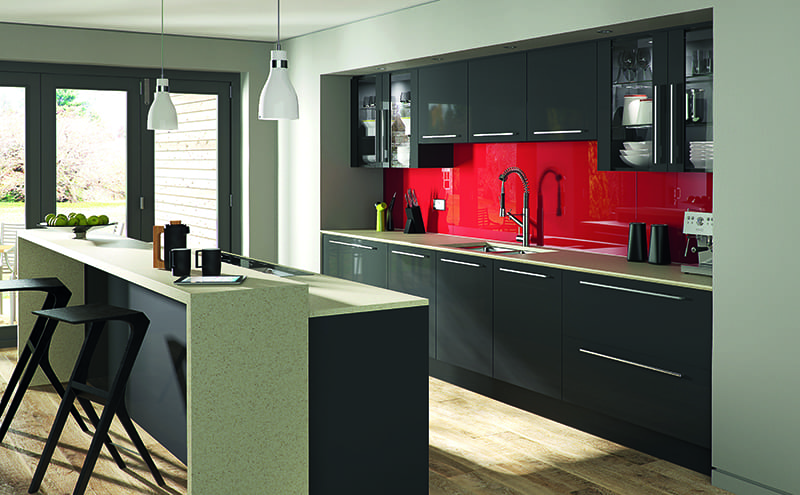 What are the latest innovations?
"Bulthaup's B architecture is an appreciation of time with family and friends, talking to each other while preparing food together. B architecture introduces a host of new functions to the table surface. Cooling and heating modules integrated into the table mean that fruit, vegetables and wine can be kept at the perfect temperature.  Intuitive bars positioned on the modules enable you to control the temperatures, and small pull-out trays can accommodate tools to suit the chosen model and are always at hand for food preparation."
Louise Delaney, Design Manager, bulthaup at Cameron Interiors
---
What tap is

 

economical, eco and looks good?
"A Quooker Fusion tap, used with the COMBI tank, is the only tap of its kind to be given an A energy rating in the kitchen boiler category. In Britain, we tend to pipe our kitchen's hot water supply all the way from our main boiler, which can mean running the tap for some time before heat comes through. The COMBI brings instant hot (50-60°C) and boiling water (100°C) direct from a single tank tucked under the kitchen sink operating from a cold water feed only. When water is drawn off, cold water flows into the tank at the same time and is automatically heated."
Stephen Johnson, Quooker
---
What finishes and materials work well together?
"Modern timber and timber effect doors and cabinetry are very much on-trend right now and can look great when paired together with neutral or sand-colour cabinetry as the timber provides depth and texture to the kitchen. Combine this with an engineered stone or Corian white or cream worktop and it becomes a very stylish kitchen. A concrete finish has a stunning industrial look to it and is best combined with a neutral white or cream as this provides a framework for the concrete."
Angus Mackintosh, Kitchens International