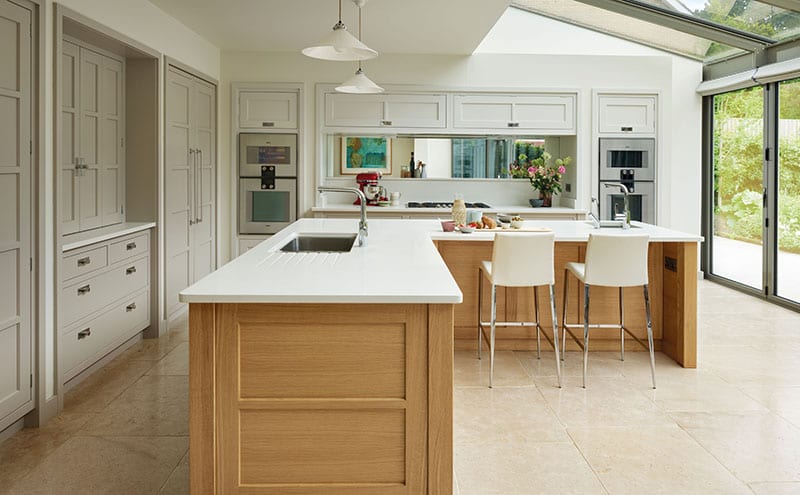 It's easy to imagine there will be a crowd of eager volunteers battling it out to win the right to peel potatoes or do the washing-up in this household. Who could resist seizing every opportunity to stand here in the tranquil luxury of this new kitchen and drink in the lush greenery beyond the windows?
That vista of mature trees and emerald lawn is what prompted Matthew Sedgwick of kitchen specialist Martin Moore to create a room where the focus is placed squarely on the views – though there is much to reward those who let their gaze fall on the beautifully crafted furniture that makes this kitchen what it is.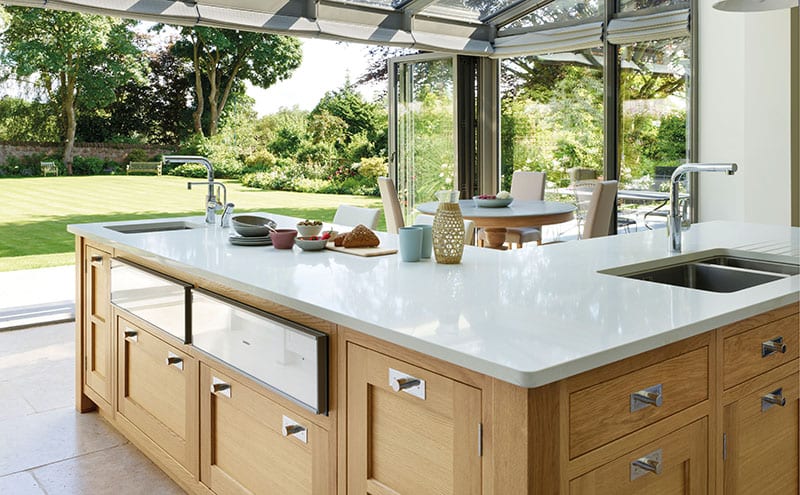 "The owners asked us to create a new centrepiece for their house, with a kitchen and dining area, while making the most of the garden views," explains the designer. "It's actually the second kitchen that they have commissioned from Martin Moore, the first being for a holiday house. This new project, though, is on an altogether grander scale, occupying a purpose-built extension with a commanding view of the surrounding gardens."
The house is built in an Arts & Crafts style, and Sedgwick was keen to reference its architecture in the detailing of the new kitchen. First, though, he had to make sure the extension would be up to the task.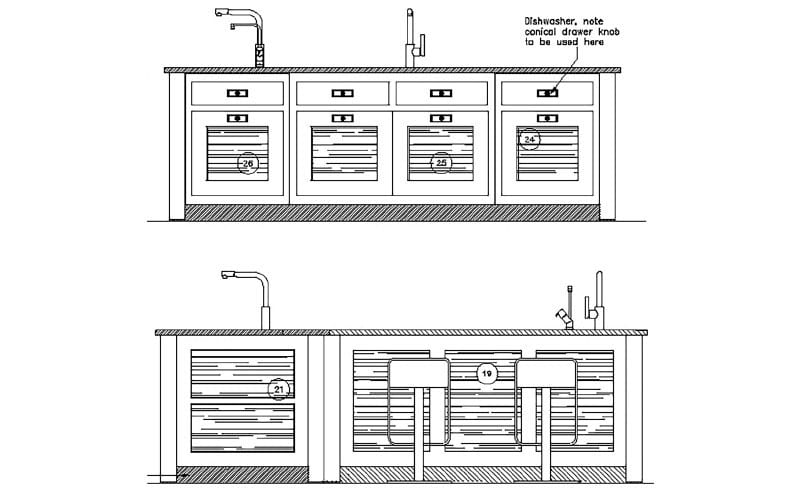 There was a large modern conservatory already at the other end of the house, and this new extension would restore symmetry to the house. Sedgwick was involved right from the beginning, suggesting the corner of the house be removed to rationalise the roof design to the front and rear and create space for a bright, open-plan kitchen-diner. "Prior to this," he says, "this wing of the house had been very busy and incoherent. Now it connects the inside with the garden in a new, usable way."
This is just a taster, you can browse the full article with more stunning photography on pages 80-84, issue 111.
Subscribe now
DETAILS
Brief To create a new centrepiece to the owners' house that would include kitchen and dining facilities, while making the most of the garden views. The owners enjoy cooking and have a large extended family, so the new space would have to be arranged to accommodate relaxed dining.
Biggest challenge With such a large number of appliances to fit in, creating strict symmetry while balancing the proportions of the furniture layout to the room itself required a good deal of thought to get right.
Budget Martin Moore kitchens start at £35,000.
Designer Matthew Sedgwick
Photography Darren Chung
Words Judy Diamond