The painter and his wife Nikki have created a home that's alive with colour, using his vibrant artworks as far more than just decoration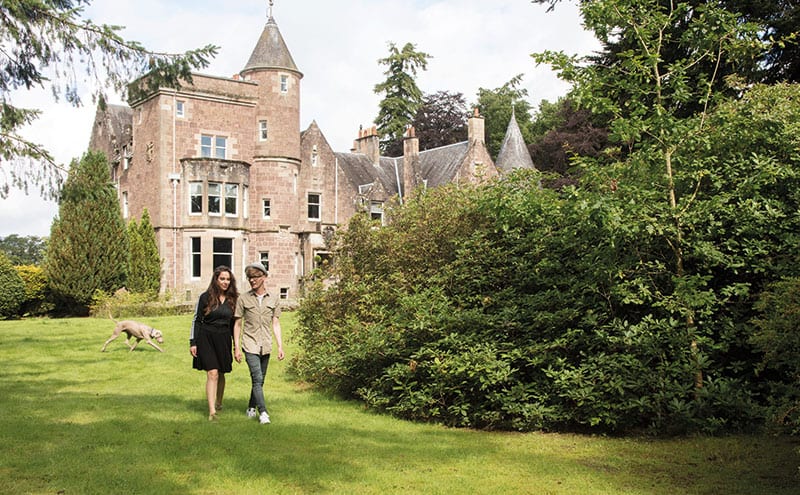 Stuart studied drawing and painting at the Glasgow School of Art, graduating in 1990. He made some contacts at his degree show that allowed him to go straight to London to work on an exhibition. He'd negotiated enough money from the dealer to survive until the show. That was the way he always worked in those days; the money was irregular and infrequent and his aim was just to survive. "I had a mortgage and two babies, so I was painting because I had responsibilities," he recalls. It was not the most creative way to forge a career in the art world but Stuart was realistic, and a grafter. "It is a selfish thing, to be an artist," he admits. "It's very different to be a free-thinker and make what you want, as opposed to painting because you have bills to pay."
The early 1990s was an exciting time to be in London, with the likes of Damien Hirst and Tracey Emin exploding on to the scene, and Jay Jopling and Charles Saatchi pumping money into new artists and galleries. But, recalls Stuart, in order for him to realise his own capabilities, there had to be a turning point.
It came in 2005, when he met Nikki, now his wife, who was working for blue-chip companies as a graphic designer. Together, they hosted exhibitions across the city, showcasing emerging artists from all over the world. The aim was simply to generate enough money so Stuart could concentrate on making the work he wanted to make. It led to him rediscovering his passion for painting and, by coincidence, to commercial success.
Growing up in Ayrshire in a working-class family, he knew the value of hard work from an early age. This perhaps explains why he grafted for so long in the early days, and why his paintings have an undercurrent of social commentary. "There should be a reason behind each painting; they should all mean something," he says. His portraits tell a story, with each layer revealing another aspect of the subject's life. "My work is a wake-up call," he says. "Young people don't have to lay down foundations today – they chase dreams of being 'famous' and aspire to being a celebrity. It contributes nothing to society."
His works are all over the home he shares with Nikki in Callander. The baronial mansion – with 13 bedrooms, turrets and 12 acres of land – is the pair's latest project, having only moved back to Scotland a year ago. "Like finding the love of your life, you just know when you find the right home," smiles Nikki. She took control of the renovation, creating a self-contained apartment where they could live while remodelling work went on in the rest of the house and where Stuart could paint.
Built in 1835, then rebuilt in 1907 after a fire, the house still has many of its original features. "It's a good mix of traditional and modern," remarks Stuart. "We don't live in the early 1900s and we want to have those modern comforts, too."
The interior is certainly comfortable; by bringing down the wall between the kitchen and dining room, the space has been opened up for warmth, views and entertaining. The dining table has an easy grandeur about it; each of the dining chairs is covered in silk that has been printed with one of Stuart's artworks.
This is just a taster, you can browse the full article with more stunning photography on pages 20-28, issue 115.
Subscribe now
DETAILS
Photography Susie Lowe
Art direction Gillian Welsh
Words Catherine Coyle