"The first time I visited the Hebrides, I fell in love with the tranquillity of the place straight away. I grew up in a small town just outside Edinburgh in an average working-class environment and went to Aber­deen University to study marine resource management.
During my time there, I found myself volunteering with the Hebridean Whale and Dolphin Trust on its research vessel Silurian. We travelled up and down the Inner Hebrides tracking whales and dolphins, calling in at all the islands on the way.
The day before I was due to return to Aberdeen, the boat tied up off Tiree in the most spectacular sunny weather, and I went ashore to explore the island (and the pub). That day I was offered two jobs and a room in a house. I ended up staying for seven years, eventually settling down and having my three children there. It was fate. I got the idea for starting the company by chance. I was flying down to London while pregnant with my third child Freddie when I read about an English sea salt producer in the in-flight magazine.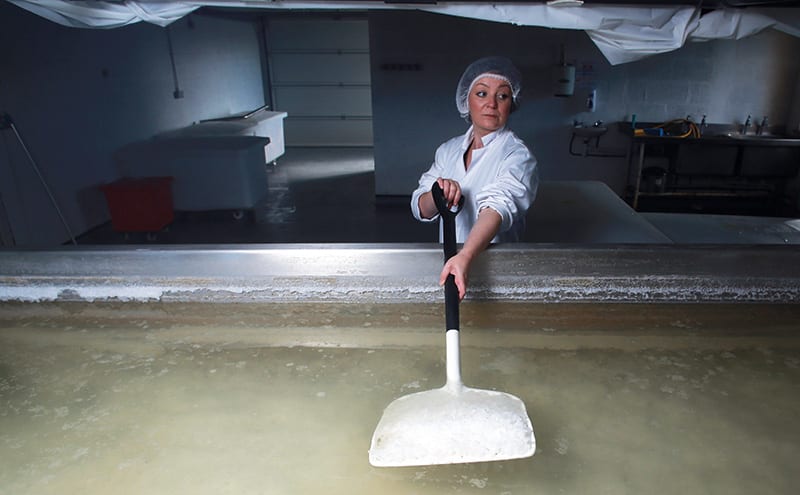 Back home, I tried to source some Scottish sea salt, and was amazed to find there was none. I immediately set about researching the idea and trying to raise the funds to get started. Our business has evolved and grown pretty quickly over the past four years. We collect seawater and filter it before pumping it into a 2,000-litre heated open tank where it evaporates over 48 hours. We are left with large crunchy sea-salt crystals that we scoop out by hand.
This is just a taster, you can browse the full article with more stunning photography on pages 115-116, issue 111.
DETAILS
Photography Stewart Attwood
Interview Catherine Coyle